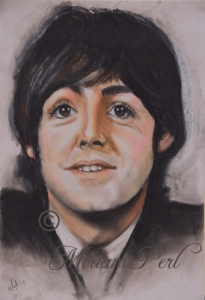 Paul McCartney for Maia 2017
(Pastel on art paper)
It's a funny thing.  My daughter Maia has been obsessed for years with One Direction.  Particularly Harry Styles.  I've sought some tolerance of this by remembering my own obsession with Paul McCartney at her age and sympathise with what my own parents had to endure.  Paul McCartney was the first portrait I think I ever drew and in a frustrating attempt to capture him as accurately as possible, I would try and try again to get it right, which I believe went a long way in honing my skills, particularly my observational skills as an artist.  I've drawn and photographed many portraits of other people since then and have gained particular pleasure drawing my childrens' own idols for their birthdays.
So it came as both a surprise and enormous pride that Maia has not only discovered The Beatles – but dare I even go so far as to say it – they have replaced her obsession for One Direction (though maybe not Harry Styles).
My family loved seeing my old attempts of Paul McCartney in my portfolio (see examples below) so Maia challenged me to do another one.  It was strange at first, here me, a grown woman, re-visiting that obsessional phase.  So my purpose for drawing this was really a challenge for me, both as a portrait artist and to use pastels again after so many years, and also as a gift for Maia.
Just as with my pencil and charcoal drawings of our dogs that preceded this, it offered me the same peace and escape that I so needed at this time.
As for that 14 year old fan girl I once was?  Okay, well maybe she still lurks hidden away beneath the surface, just waiting to break out.