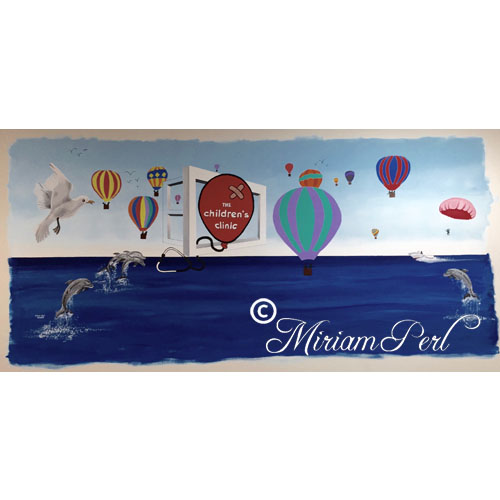 It was 2011 when a good friend asked me to paint a mural for his new paediatric clinic, Sydney Children's Clinic in Woollahra.  I had painted murals before, mostly at home, never commercially.  It was with some trepidation that I took on this challenge.  The brief was it should appeal to children from 0-16 years old, so Winnie the Pooh was out, otherwise I had free reign.  I imagined a scene that would lift the spirits of parents, teenagers and children alike and I came up with this.  All the doctors liked my idea and I was given the go ahead.  The space was small and narrow so logistically it was quite difficult to paint but after a week of back breaking work it was complete and to everyone's satisfaction.
Then in 2015 I was informed the clinic was moving to new premises in Bondi Junction.  Problem was the mural – how do you take it with you?  The clinic still loved the mural and considered it to have become part of their identity.  Therefore I was asked to re-create it, exactly as was, in the new space.  Now here was a real challenge.  I had to make a couple of minor changes.  The dimensions of the wall were different and I also had to allow for the furniture (the position of filing cabinets already having been decided).  Together with that problem, I hadn't made any notes the first time around and had to try to match the colours and technique.  Despite all of the above it all worked out in the end.
At the end of the day the client was very happy and, I am frequently told, so are the patients.
Lets just hope they aren't planning another move anytime soon!!!!
For more information Contact Us